So you think your website is just for branding — perhaps your services or products are not suitable at this time to be sold online (they may require a lot of physical consultations, involve a very high amount of money or require tailor-made quotations), and you don't need a sophisticated login user management system to collaborate with your customers. But you still have a website — albeit a simple, static, for-branding-only corporate website with a few pages about your services and your history, and you don't see a need to change that.
We are now in 2021, in a world that is rapidly going through digitalisation, where physical meetings are fewer than virtual meetings in most industries, and digital processes are replacing physical ones to automate and increase business efficiency and thus productivity.
Using Custom Web Development Applications To Improve Business Productivity
Here at Oangle, we believe in creating custom, tailor-made web development applications, designed specifically for your use-case and needs (not a standard package that comes with a lot of features that you don't need but have to pay for, even if they come with a grant), to help improve your productivity as a company, and also help market your company better in your industry, which, chances are, is getting increasingly digitalised.
Your competitors may be spending big money in transforming their processes and going digital, and you may not be able to compete with that. Even if you have the budget to do so, the idea of having to use multiple systems and learning multiple user interfaces may be daunting to you and your team, especially if you have trusted employees who have been with you for a long time, and are very used to physical processes.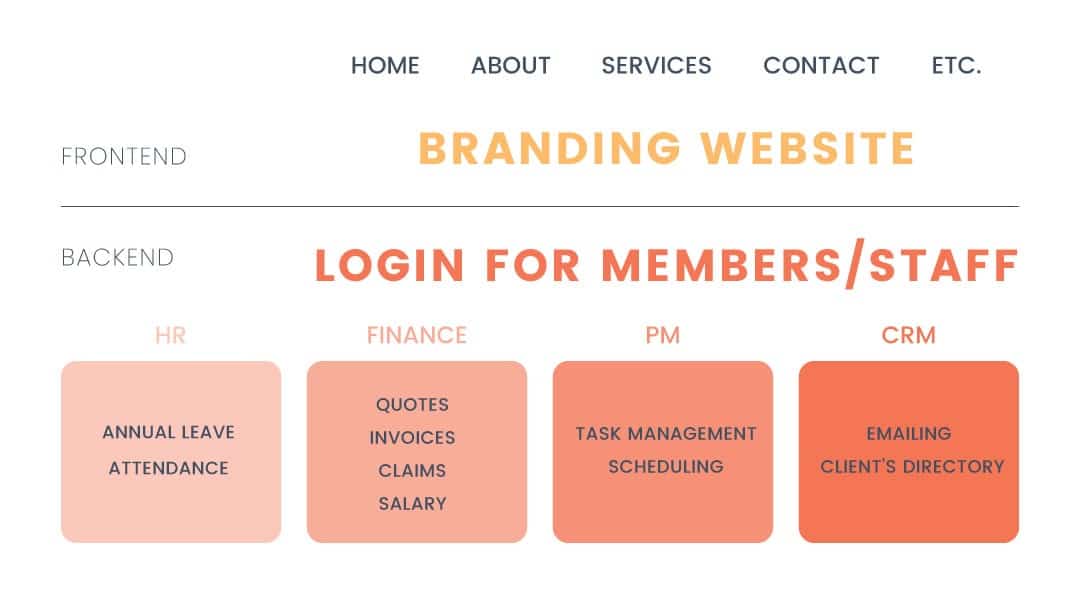 Here's where Oangle can help you. Using your website as a base, we can create a variety of ecosystems to suit your needs. Using your website backend, we can simulate certain features of highly complex and heavy ERP (Enterprise Resource Planning) and CRM (Customer Relationship Management) systems that suit your needs. Think about what are some of the routine, manual things that you have to do on a regular basis — for example, handwriting manual invoices/receipts/claims for your accountant. Or temperature-taking logs. Or project updates. Even just emails to customers. We can set up systems with ready-made templates for all of these to make it easy for you to:
create
log
filter and search from past entries
distribute/send out
The Many Uses Of Custom Web Development Applications
Human Resource (HR) Applications
For example, just adding a module for attendance taking in your website admin panel. Your employees (or students, for that matter), can simply scan a QR code or flash a QR code to be scanned by you in order to mark their attendance. Or other simple HR processes, like tracking annual leaves, day-offs, benefits and KPIs.
Financial Applications
Certain financial tools can be simulated easily as well — perhaps not to the extent of extensive accounting software, but basic invoicing, sales quotations, receipts, claim sheets, salary slips can be easily generated and tracked. You just need to fill in fields to generate the slips. Styling, formatting, and even standard info (like select a name and relevant info will be automatically populated) are done for you in advance. You can also send out invoices to clients with one click of a button. We can also set up inventory and stock taking systems on top of your financing tools.
Project Management (PM) Applications
There are many project management or task management or schedulers apps and tools available — many of them are paid for services. We can simulate team collaboration tools where you can track tasks, assign tasks to teammates, set reminders etc.
Client Relationship Management (CRM) Applications
CRM applications, like updating what's the last contact with a specific client, client details, emailing clients directly with a templated format, or emailing clients directly from your website through a third-party service integration (eg Mailchimp or Sendgrid) is also possible.
Build a customised web development application for your site easily
This article is not exhaustive — it is inexpensive to build a custom web development application tailor-made to your needs on top of your website, compared to expansive software with a lot of features and also a hefty monthly subscription fee. Feel free to speak to us to find out more about the possibilities that customised web development applications can achieve for your site.