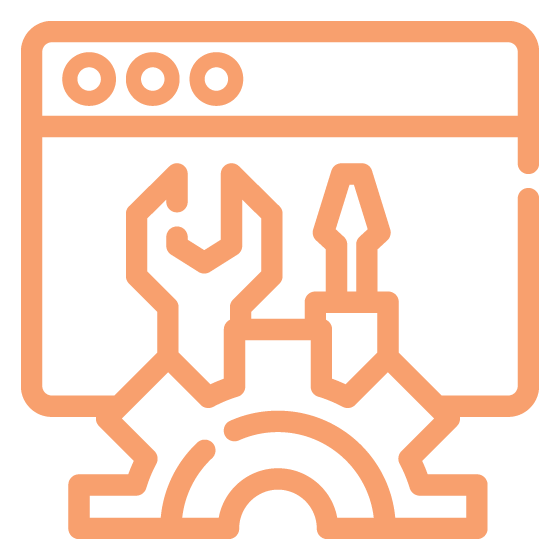 What's a website revamp and why is revamping websites so important?
Revamping a website is like giving it a makeover to improve its overall performance. It can provide a better user experience, increased online presence and higher conversion rate. The web world is constantly evolving, and it's important to make sure your website changes along with it in order to stay relevant. A website that looks up to date automatically gives users a good first impression of your brand. As a general rule of thumb, one should try revamping their website at most every five years. This is especially important for businesses, as a company's website should reflect the brand appropriately while business keeps moving. Here at Oangle, we're experienced in website revamps that help streamline internal processes and keep your brand looking updated and fresh.
5 reasons why brands should consider
revamping their websites
1. The website is old and not up to date
Most leading brands nowadays revamp their websites every 3 years or less. If your website is five years or older, it urgently needs some revamping. The web world is constantly changing and improving, so it is easy to spot a website that is outdated. The first impression that visitors get from your website is crucial and can determine whether they choose to continue browsing. Having an outdated-looking website can give off the impression that the brand is not in trend or does not care. On the other hand, having a website design that is up to trend can make your brand look savvy, innovative and will leave a good impression on visitors.
2. The website has a bad SEO ranking
It is important for a website to have a good SEO ranking. This will help it show up higher in search engine results, and thus potentially bring in more traffic. Using an SEO tool or plugin might help, but a lot of the time revamping the website is needed to sort out things like technical issues and content navigation. There are always ways to improve a website's SEO performance, many of which our team is experienced in handling.
3. The website has poor user experience
Another reason why a website would need revamping is if it has a poor user experience. There is no worth in good content if users do not even see it. User experience consists of many factors, such as loading speed and navigation. In today's world of high speed and connectivity, people expect to get what they want fast. If a website takes more than 5 seconds to load or is confusing to navigate through, most people will not hesitate to move on to the next website.
4. The website has issues with security
Websites that look sketchy or face security risks can deter potentials users from visiting your website. This is especially important if the website is an e-commerce one, where online payment is featured. Revamping the design of the website to look professional and trustworthy can help make users feel more at ease. Additionally, security concerns can be addressed by switching to a safer web hosting option. There are also numerous web security tools that can help keep your website safe.
5. The website is not mobile responsive
Majority of website traffic are from mobile users. In this day and age, it is essential for websites to be responsive, meaning they work well on different screen sizes such as desktops, laptops, tablets and mobile devices. Therefore, if your website is not mobile responsive, most users will leave and move on to another website. It is crucial for brands not to lose this portion of potential customers.
Website Maintenance and Fixes
Website maintenance is consistently checking and fixing issues and errors on your website. This is done to ensure that your website is kept healthy, updated and relevant. Doing so will keep traffic coming to your website and help with SEO and Google rankings. It is crucial to keep your website well-maintained to attract and retain visitors. This is especially important for businesses to engage customers with your brand. Even if websites may not seem to present big issues now, if not detected and fixed regularly, serious issues may appear. Thus, it is good to monitor your website regularly to make sure it is in good shape and so your business can run smoothly. Oangle offers maintenance and fixing services to keep your website in good shape. 
Contact Us for a Website Revamp, Maintenance or Fix!
Oangle is a web design studio in Singapore. We are highly experienced in website revamps, and we specialise in website development using WordPress, a powerful content management system. Whether a website revamp, maintenance or fix, we've got you covered. Our team of dedicated professionals are able to provide you with the support your website deserves. Drop us a line and we will be more than happy to chat about it.
Besides services, we pride ourselves in offering solutions too. If you need a fix, a revamp or just want to find out if you can expand your brand's digital presence, we'd be more than happy to chat!