The objective of this article is not to tell you how to build a website – there are countless articles easily available about that. More importantly, you should know the various ways of creating a website before embarking on creating one. Understanding your own website needs can help you consolidate your goals for the website. Subsequently, you can then find the most suitable method for your needs. This will save you countless of hours of hair-pulling frustration and unnecessary waste of money.
ROADMAP: HOW SHOULD I BUILD A WEBSITE?
After seeing numerous clients coming to us with half-completed websites that they are not satisfied with, with horror stories about the entire process, Oangle has come up with this roadmap. Do you know how to work with web development languages? Are you proficient in Photoshop? Or will you be selling products online? Our roadmap can help you understand and streamline your needs. Test yourself on this map and see where you end up.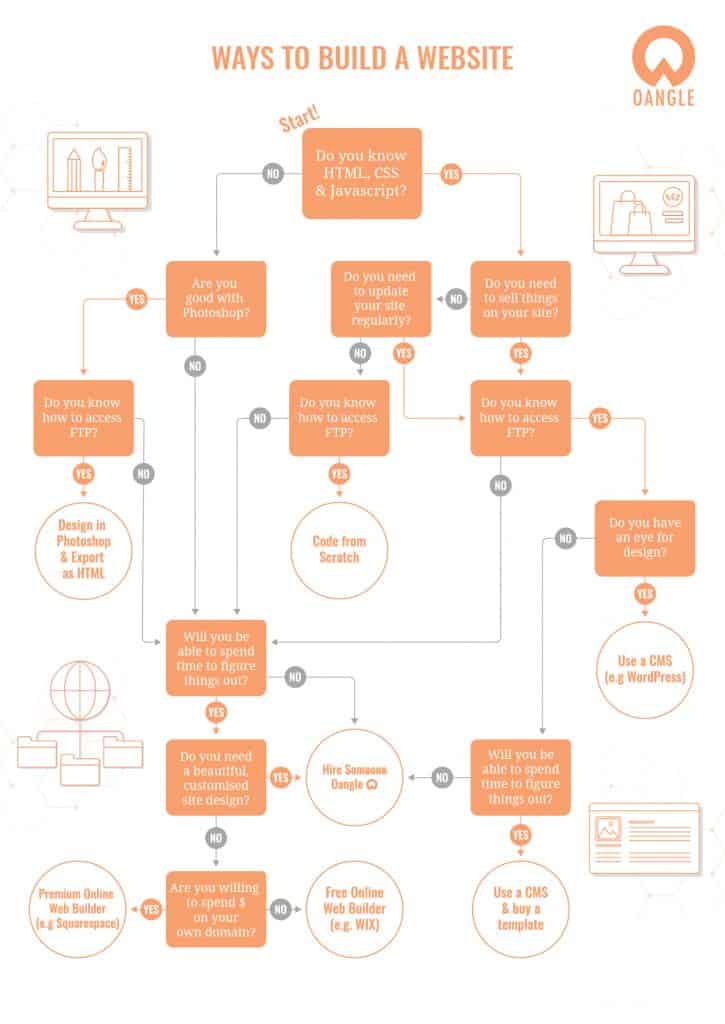 At Oangle, we understand that it is a tedious and possibly costly task to build a website. This is even more true for individuals who lack web development background and experience. This roadmap was designed to help you analyse and understand your own skillsets, website needs, and available time to see how to go about building a website.
BUILD IT YOURSELF
Want to have the know-how of building a website but don't know where to start? It's never too late to start learning about web design. We offer an Intro to Web Design Free Course, where we give a very basic introductory lesson on the things you need to know before you start designing a website. This includes understanding the possibilities how to kick start the building process – do we code from scratch, use a Content Management System like WordPress, or use a website building application to build and export a website?
HIRE A WEB AGENCY
We've come across a number of clients who started off building their website on their own, especially entrepreneurs who want to start an online business. They could want a simple informational website or an e-Commerce website to sell products. Depending on the scale of their business, sometimes it becomes hard to juggle keeping updated with good UI/UX design, website updates, maintenance, hosting, along with marketing and business development. This is where a web agency can step in and take some of the web-related tasks off these business owners, and possibly improve the quality of the website because of the experience they have. In addition, most Web Agencies takes User Experience (UI/UX) into consideration help ensure that your website is user friendly.
It's important to understand your current needs, and ensure your time is allocated to tasks that most efficiently and effectively improves your business.