COMPLEX JEWELLERY E-COMMERCE STORE
To boost sales and improve user experience on their website, SK Jewellery wanted a full web revamp.
With detailed customer journey and user flow research, we were able to enhance the entire experience of shopping on SK Jewellery's website.
This is a highly complex website with many e-Commerce and Customer Engagement features available for both first-time and returning users.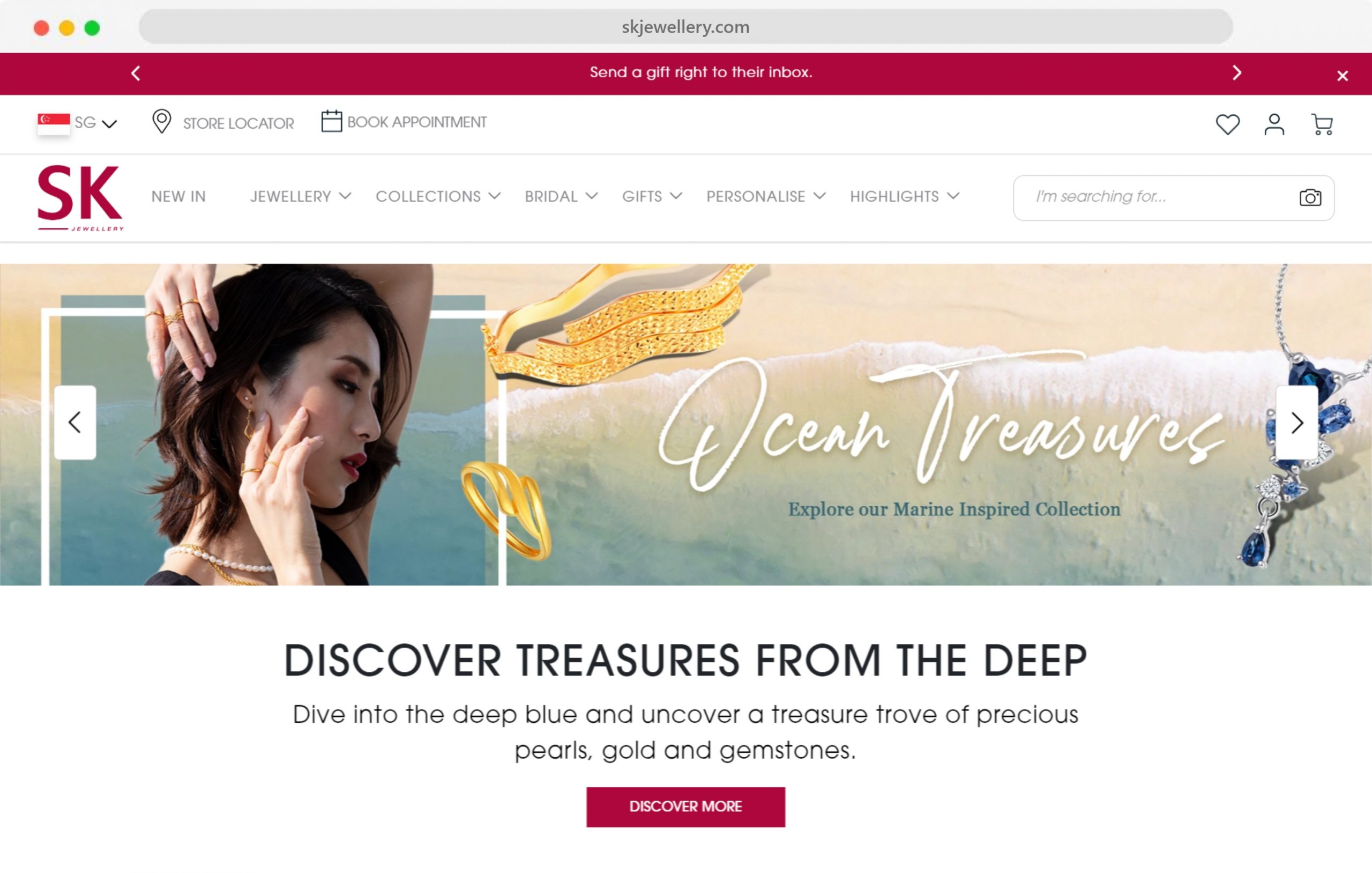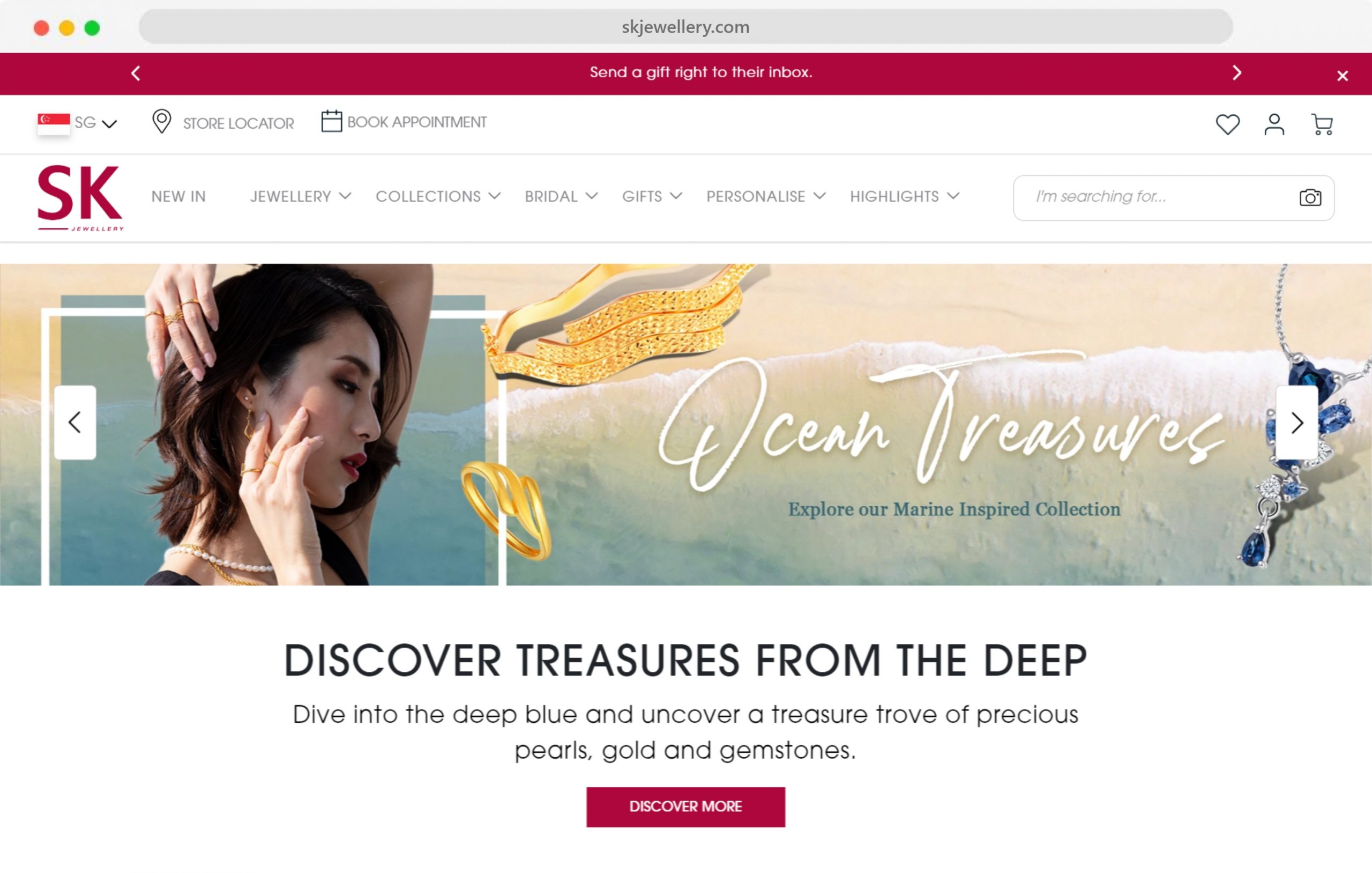 COHERENT PLACING OF PRODUCTS AND SERVICES INTO CATEGORIES
With the use of cohesive dropdown menus in the navigation bar, users can have a full view of the wide range of products and services SK offers and reach their desired product range within a click.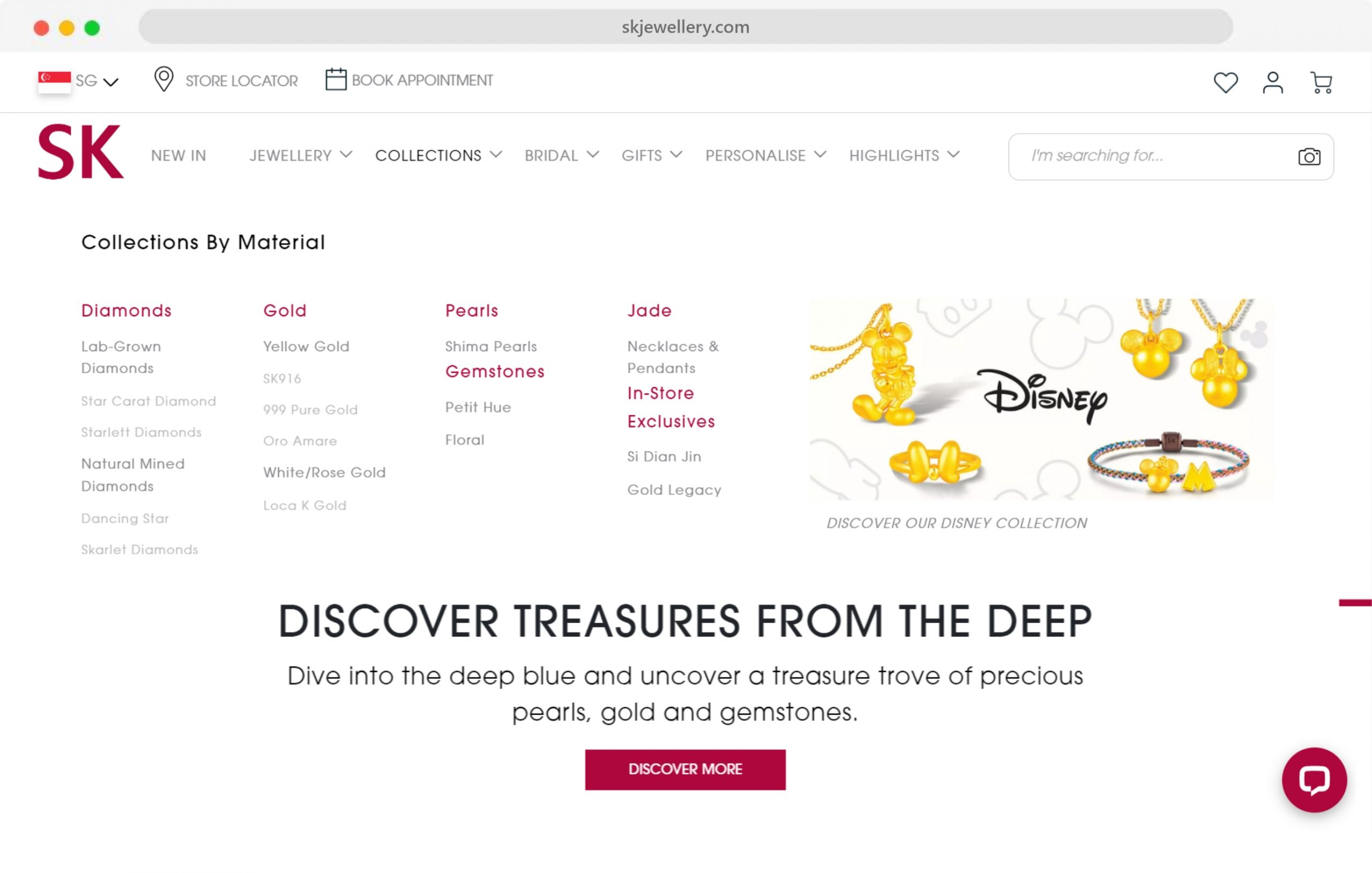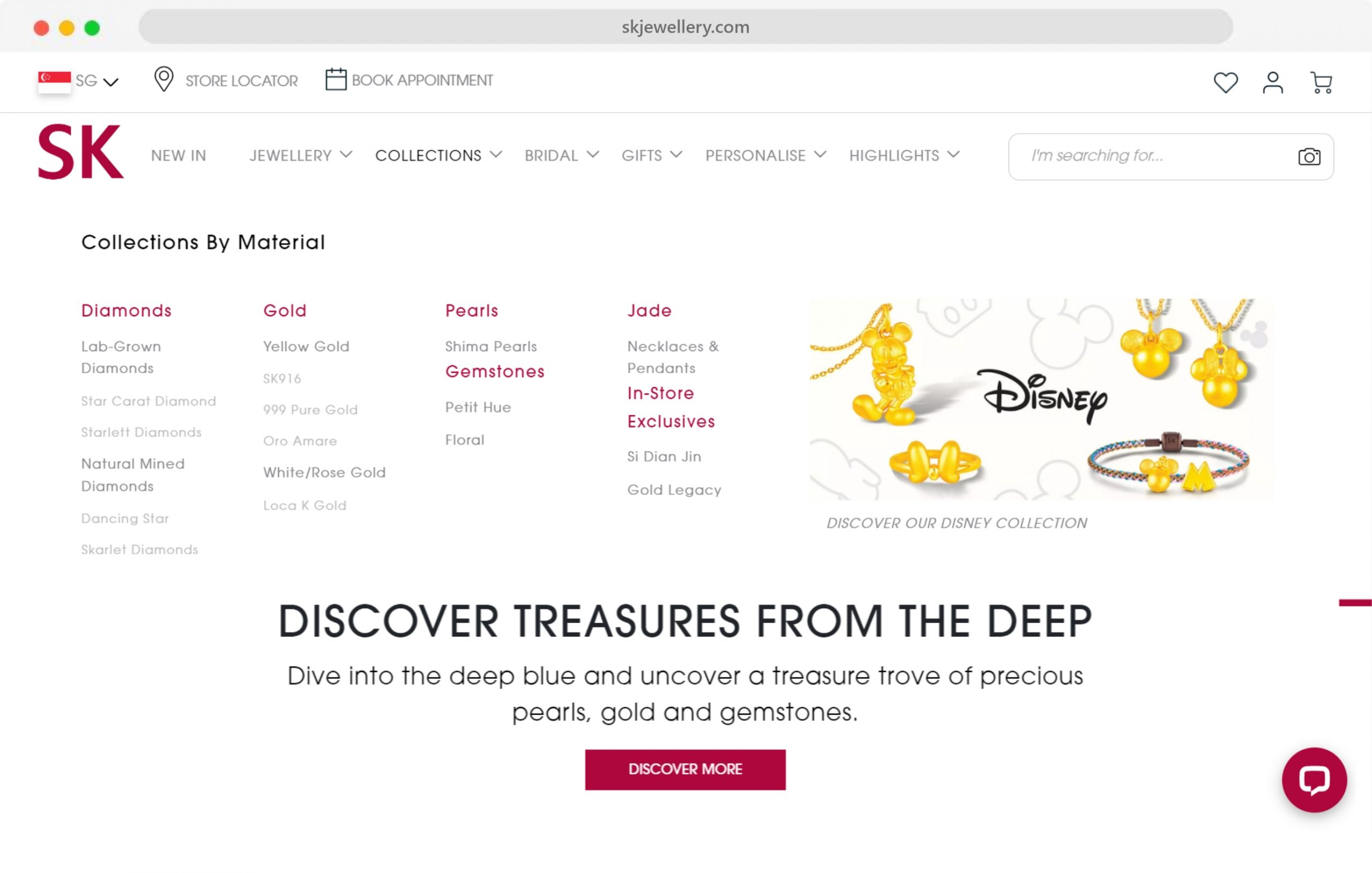 OFFERING PREVIEWS OF PRODUCTS IN ORGANIZED SECTIONS AND COLUMNS
Inside each individual range of products listing page, items are neatly placed into boxes with clear images of products with their names, prices and option to add to wish list. Upon hover on one of the products, the image turns into a photo of the product worn on a model, giving a clear preview of how customers can expect the product to be, also creating an element of surprise to delight users with this micro interaction.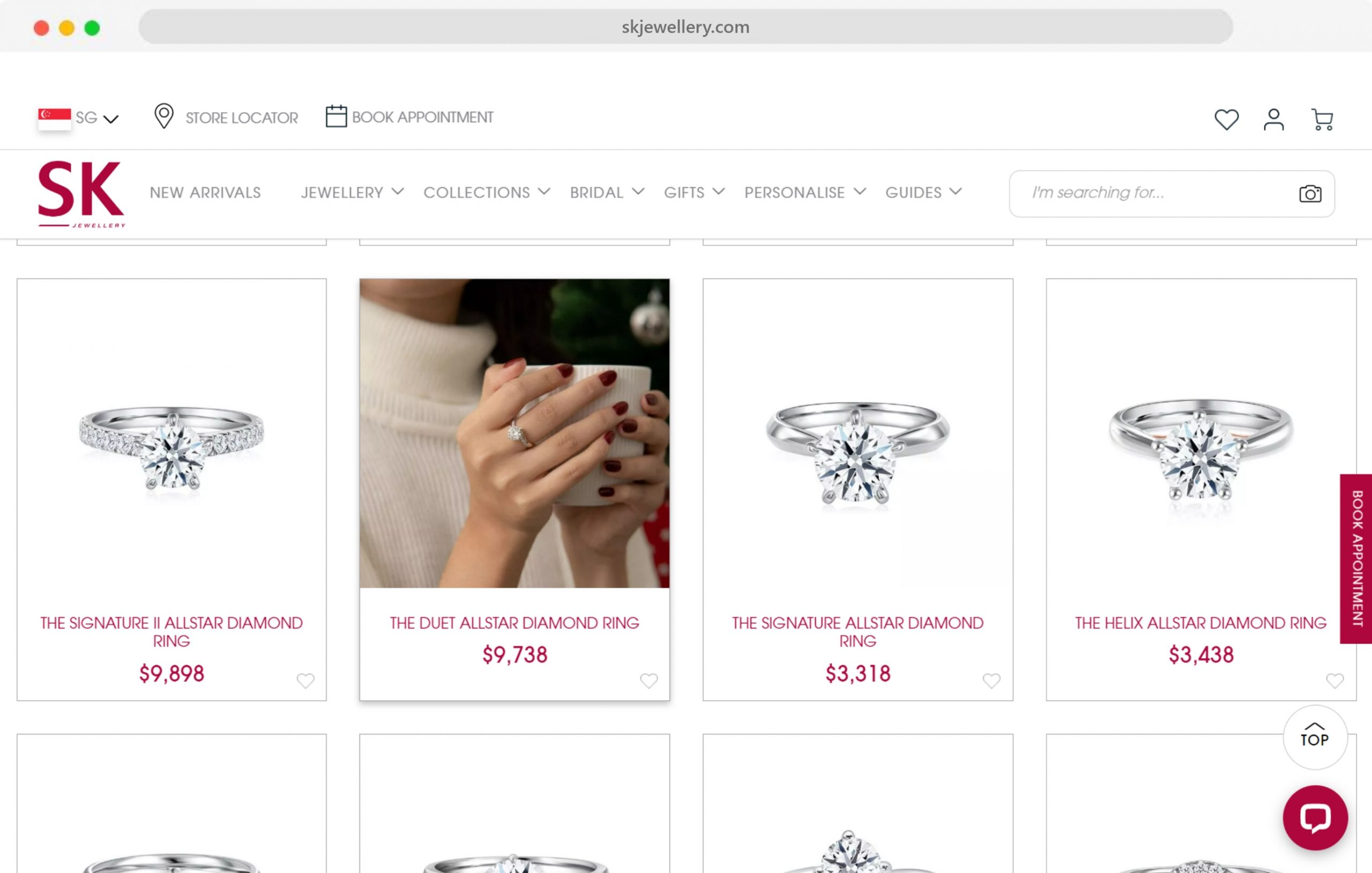 CUSTOMISATON AND PERSONALISATION OF JEWELLERY
SK offers customization services for some of their products, allowing customers to choose from the pendants, charms and birthstones they prefer to go with their accessories, to engraving and styling name pendants, with the site showing previews of the text to give them an idea of how the final product would look like.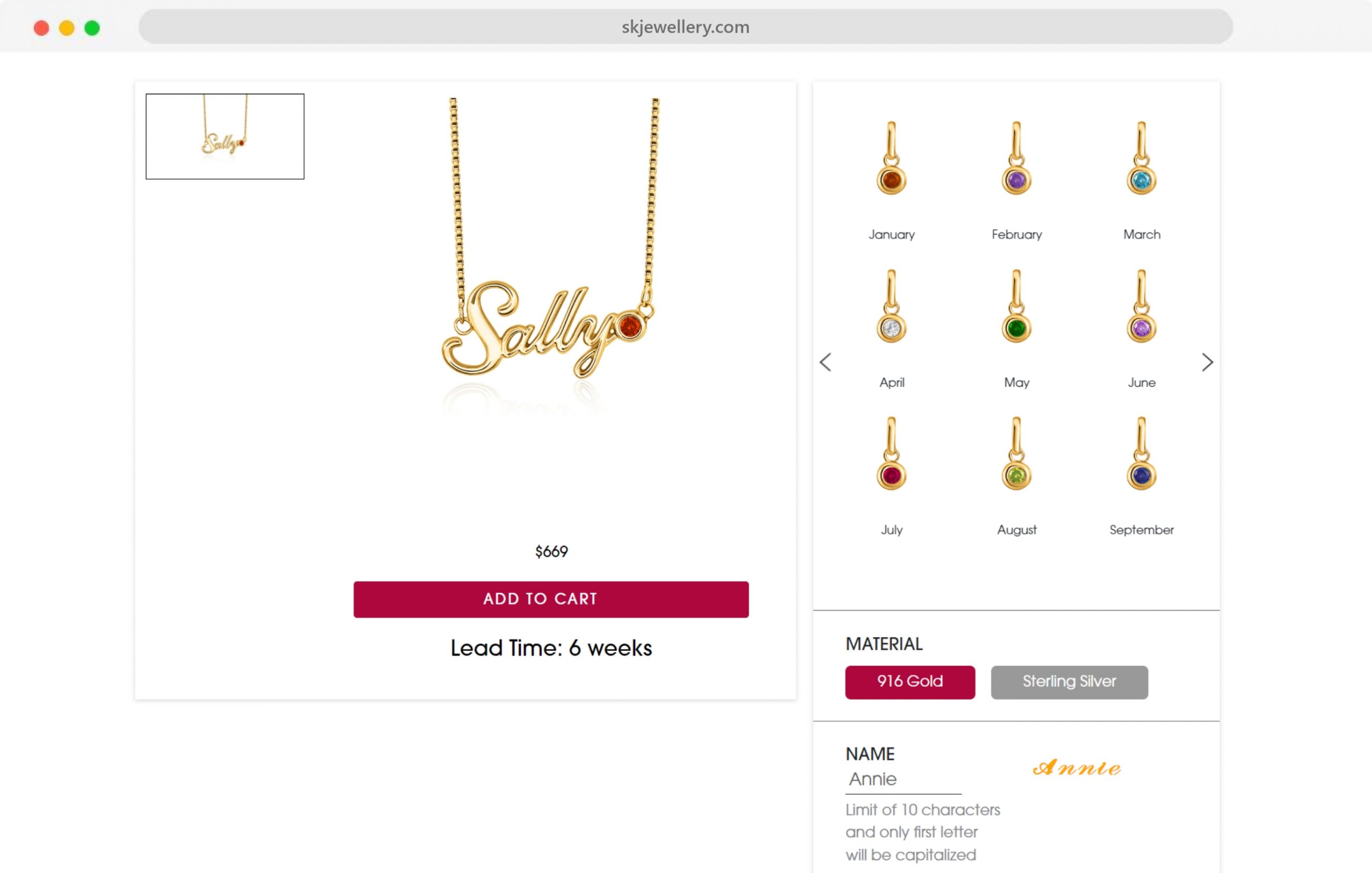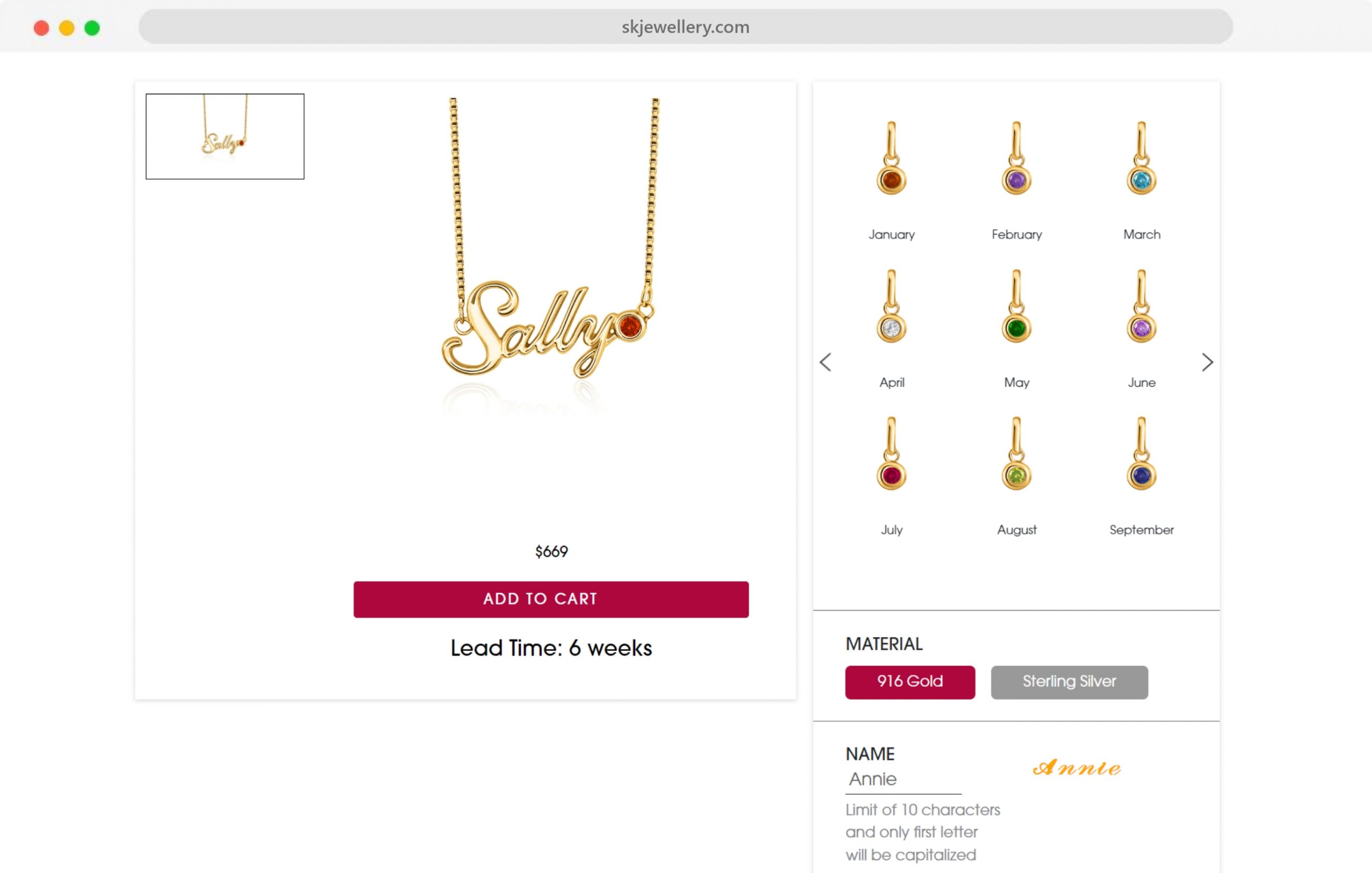 EASY TO USE E-COMMERCE PLATFORM
From choosing the jewellery to purchasing it online, SK makes the whole process fast and easy, with simple to understand instructions and interface to having a strong security system to ensure the privacy and safety of customers.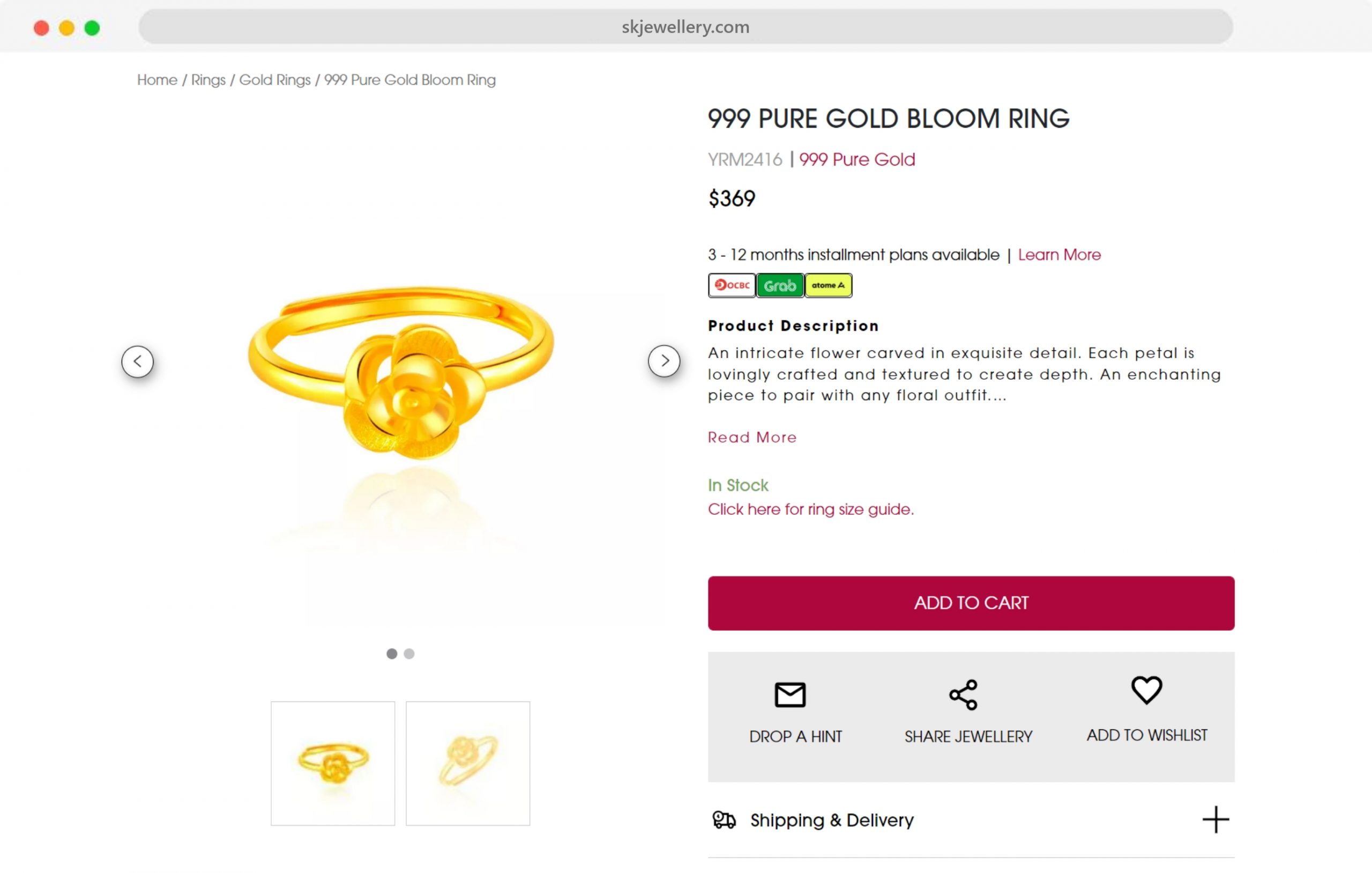 EXTENSIVE READS TO CARE FOR JEWELLERY
Other than just selling jewellery, the website also provides customers with quick reads and tips of how to properly care for their items, with the instructions, dos and don'ts placed in a neat and concise manner to avoid confusion.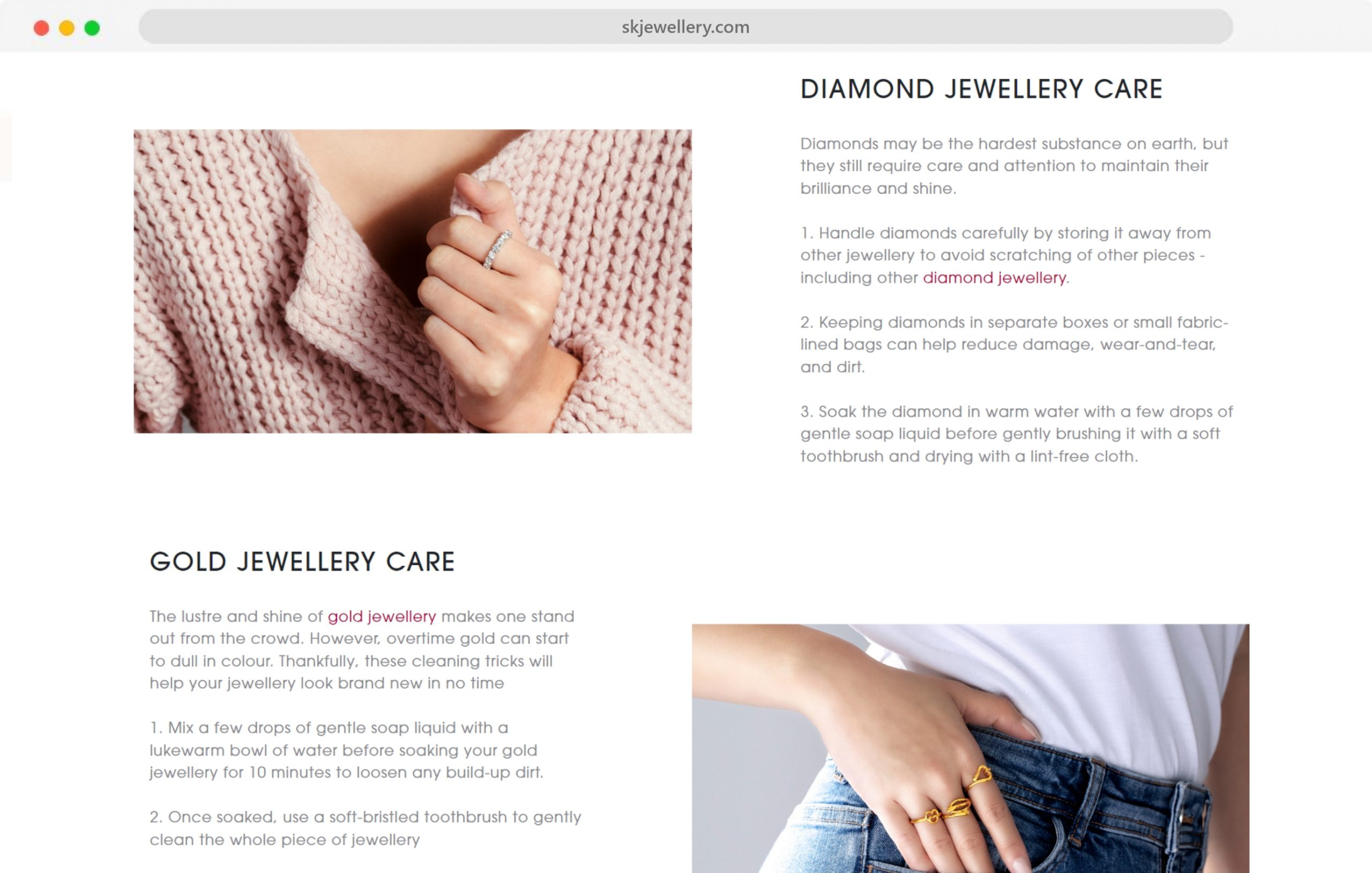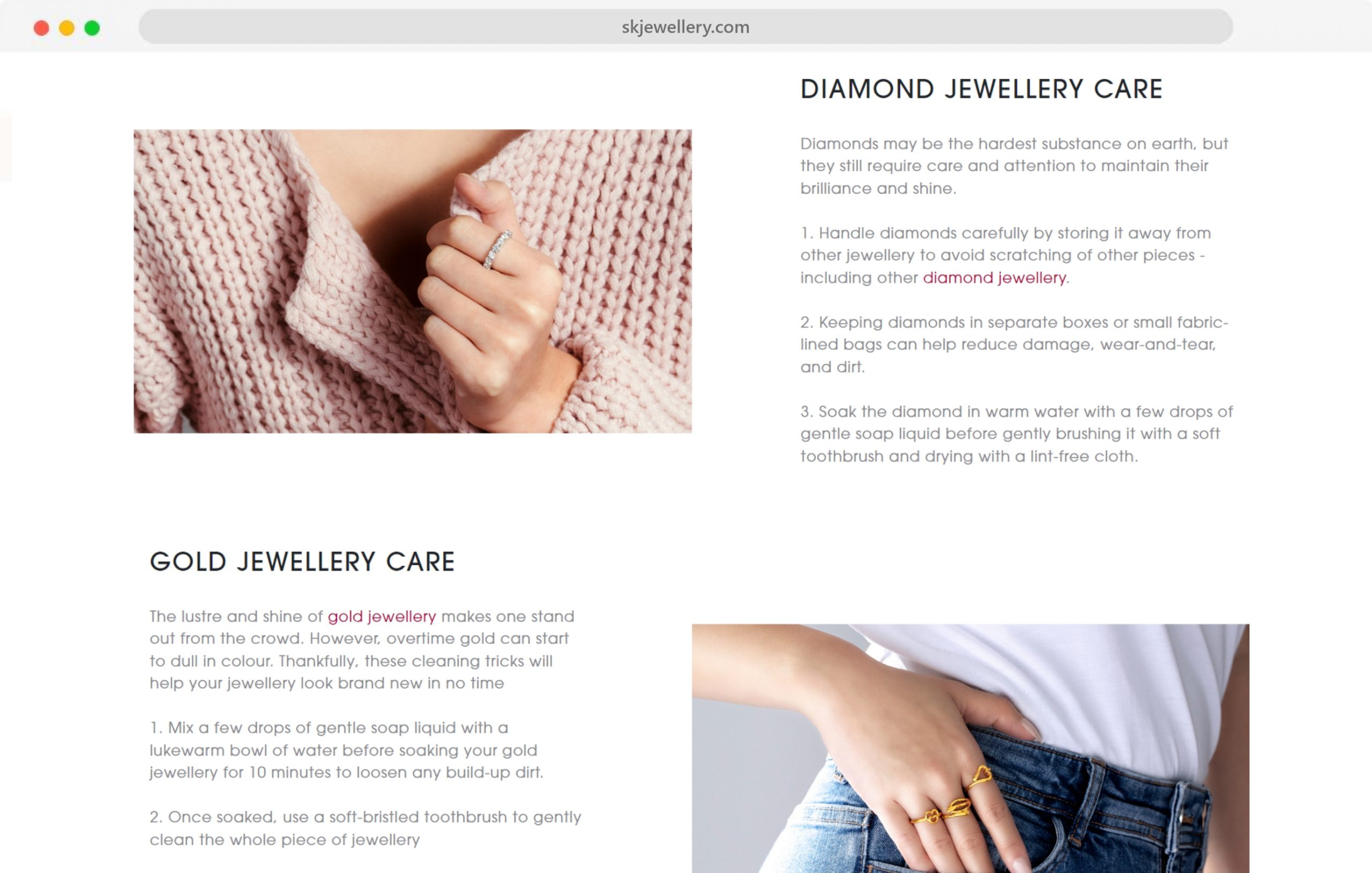 COMPREHENSIVE QUALITY ASSURANCE TESTING
Similar to any website we worked on, quality assurance testing and checks are always done to ensure that everyone with any devices and browsers are able to access and have an enjoyable website experience.